The Municipality of Tirana has long been one of those local institutions that awards tenders with the highest values. Despite the fact that the community may have urgent needs, the focus of the municipality in the concrete tender seems to be buying new transport vehicles, production of 2021-2022.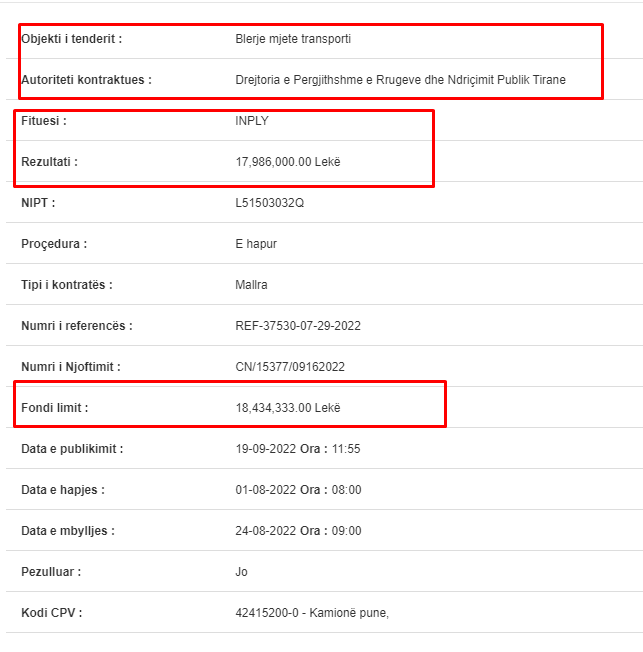 It seems that this municipality has not taken into account the economic and energy crisis, the high prices of food and fuel, which has created problems for many middle-class and poor families in Albania.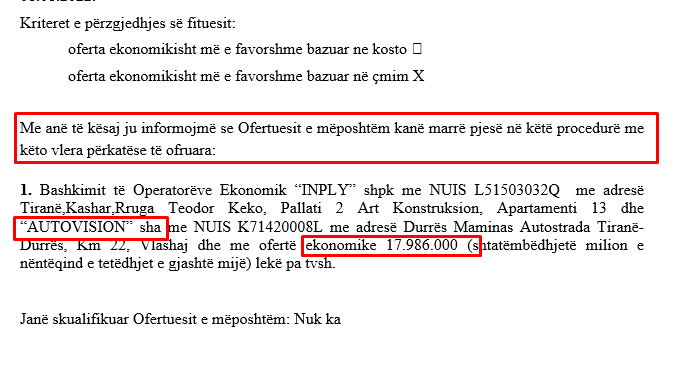 Since in this particular case the costs could be reduced by buying used vehicles manufactured a few years ago, to reduce costs and to direct the money to social programs to help the weaker communities.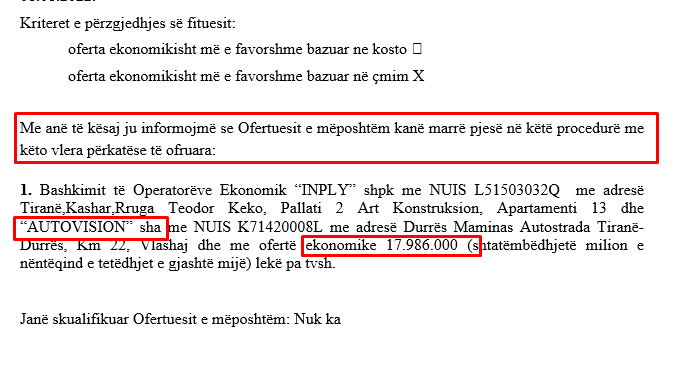 But it seems that this is a pure "gift" of Veliaj towards the owner of Bolv Oil, Behar Çukaj. More specifically, we are talking about the tender with reference number REF-37530-07-29-2022 and with the object "Purchase of means of transport".
The tender was organized by the General Directorate of Roads and Public Lighting Tirana, an institution under the municipality. The limit fund is calculated at 18,434,333 new ALLwithout VAT or about 221 million old ALL with VAT.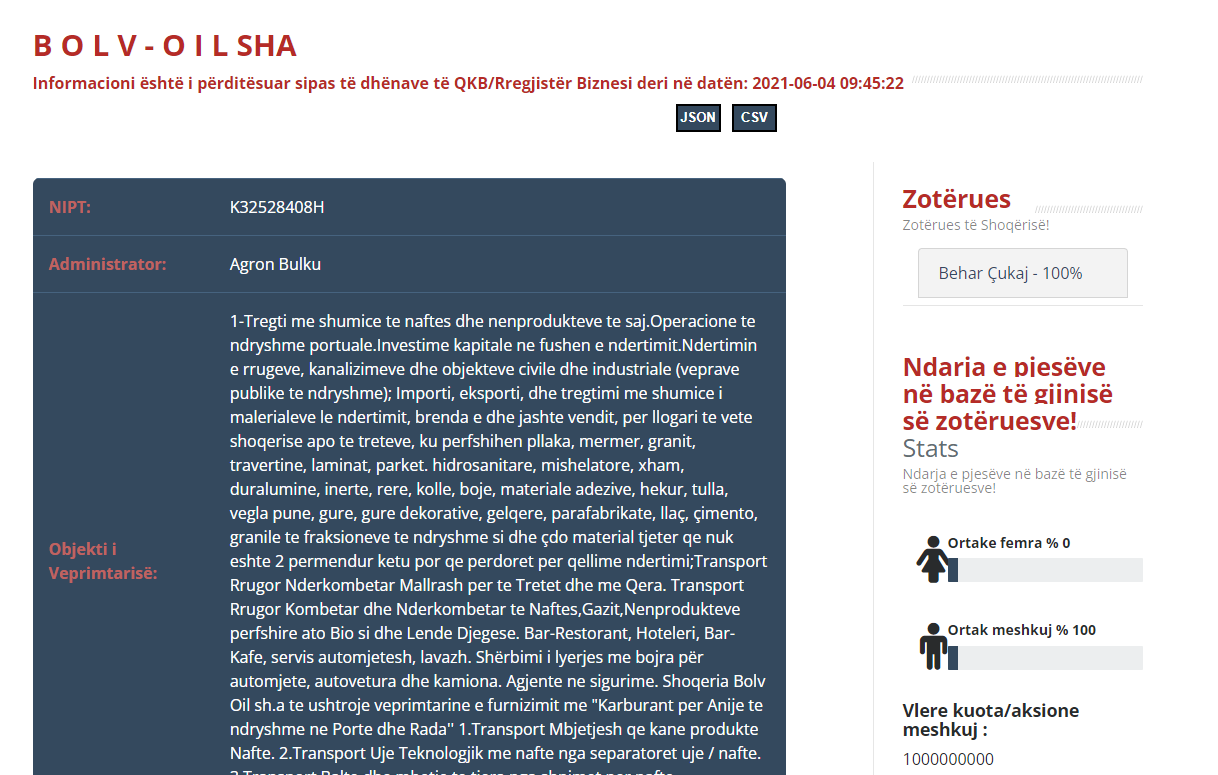 Browsing the relevant documentation of the tender, it is said that only one economic operator participated in it, namely the union of the operators "INPLY" and "AUTOVISION" with an offer of 17,986,000 new ALL without VAT or about 215 million old ALL with VAT.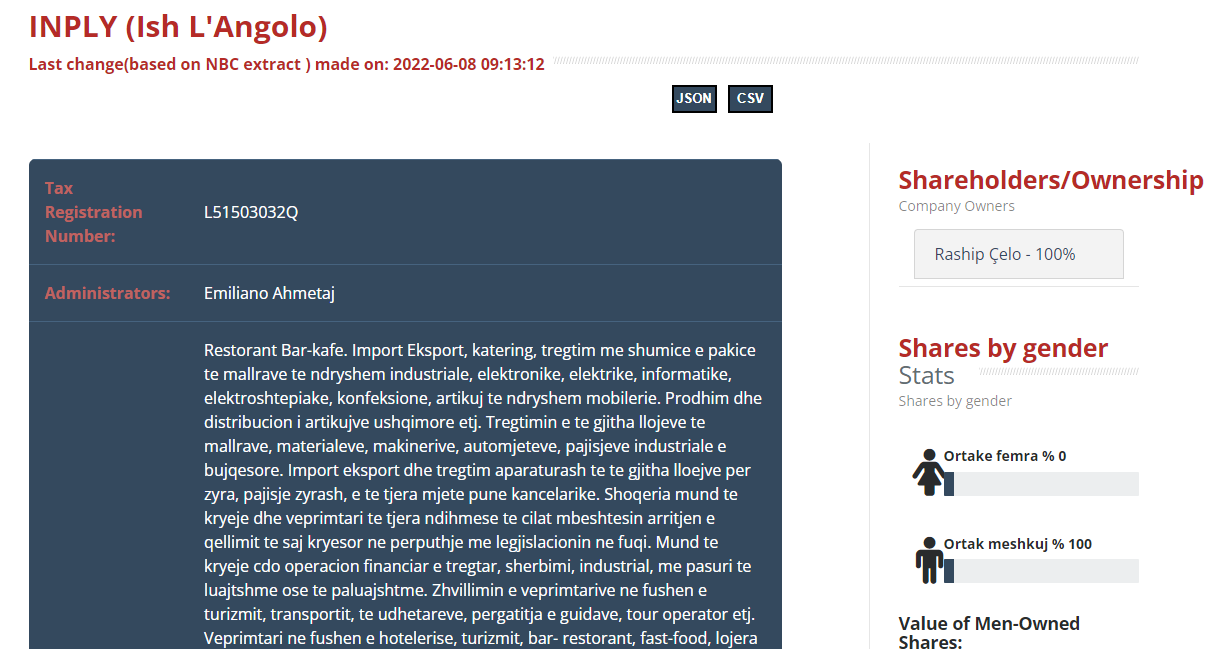 It turns out that the owner of "AUTOVISION" is BOLV-OIL SHA owned by Behar Çukaj. Doubts that we are dealing with a predetermined winner are further increased when it is seen that the winning value is as much as 97.56% of the limit fund of the tender.
FACT CHECK:
Synimi i JOQ Albania është t'i paraqesë lajmet në mënyrë të saktë dhe të drejtë. Nëse ju shikoni diçka që nuk shkon, jeni të lutur të na e
raportoni këtu
.
HEROI I MUAJIT
KLIKO PËR TË VOTUAR
Leli Alushaj

Leli Alushaj, kamarieri i një restoranti në Tiranë, i cili me ndërhyrjen e tij të shpejtë i shpëtoi jetën një turisteje spanjolle, teksa ajo po mbytej.

Robert Neçaj

Roja bregdetare, i cili shpëtoi nga mbytja në plazhin e Shëngjinit dy persona, motër e vëlla, teksa dhe vetë përfundoi në spital. Ai u dëmtua shumë gjatë aksionit të tij të shpëtimit, por sot, fatmirësisht gëzon shëndet të plotë.

Andi

Roje bregdetare në Sarandë, i cili shpëtoi nga mbytja, babë e bir. Pamjet se si ai nxirrte nga uji babë e bir u bën virale dhe u shpërndanë edhe në faqet e JOQ ALBANIA.

Djali i mitur

Djali i mitur, që shet lule pranë qendrës së Tiranës, për të siguruar libra dhe rroba për shkollë. Ai ulet në trotuar dhe u kërkon qytetarëve që të blejnë lulet e tij.