Albanian "wonders" is a term that fits better than anywhere in the everyday reality in Albania. This is because "wonders" happen in almost all areas or aspects of daily life in this country. You see wonders everywhere, at work, in the store, at school, in traffic, in the hospital, etc. Of course, you also see them in the justice system, especially when it comes to multimillion-ALL tenders. A wonder with a big "W" is for example the following case.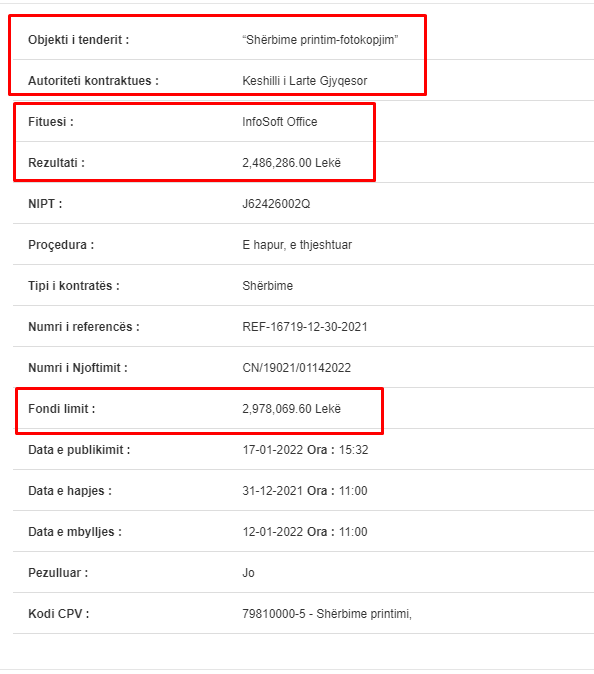 It turns out that the High Judicial Council chaired by Naureda Llagami has decided to spend almost 30 million ALL from Albanian taxes to print and photocopy the materials of this institution. In fact, it is incomprehensible why a state institution, much less the judiciary, does not have printers or photocopiers to perform the services in question. However, it seems that this is not a problem at all for the High Judicial Council as long as there are the desolate Albanians who pay.
More specifically, it turns out that this institution has organized the tender with reference number REF-16719-12-30-2021 and with the object "Printing-photocopying services". Researching the relevant documentation of this procedure shows that hundreds of thousands to millions of pages are expected to be printed. Only 3 companies participated in the competition, of which 2 of them offered almost the same values. It is known that when participating companies offer similar values ​​there are doubts about the predetermination of the winner. In fact, the winner was the company InfoSoft Office with a value offered of 2,486,286 new lek without VAT or about 30 million old lek including VAT. This value on the other hand turns out to be as much as 83.48% of the limit fund.