Pirro Vengu is the current director of the Durrës Port Authority. There are more and more cases of seizure of serious drugs such as heroin and cocaine in this port. These are not small quantities but large quantities of tens of kilograms which are usually caught in containers or trucks. Well, despite the considerable increase in drug traffic in the country's most important port, it seems that the Port of Durrës "does not put water on fire" to increase control or security systems.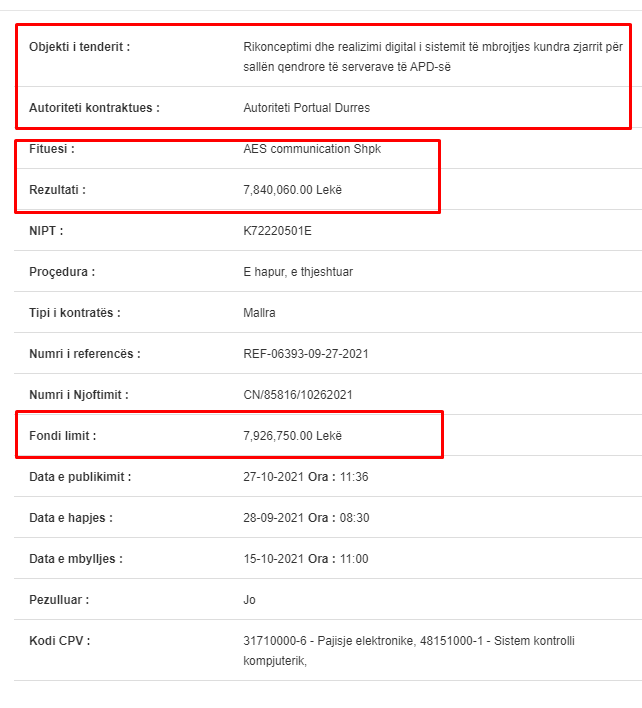 On the contrary, it conducts tenders which have nothing to do with preventing the movement of such quantities of drugs in this port. It turns out, for example, that this port has realized a tender worth almost 100 million ALL for digital realizations of fire protection in the server room. More specifically, it is about the procurement procedure with reference number REF-06393-09-27-2021 and with the object "Reconceptualization and digital realization of the fire protection system for the central hall of APD servers".
The tender limit fund is 7,926,750 new lek without VAT or almost 100 million old lek with VAT. It is noticed that this procedure lacks competition because only one company participated in it, which was also declared the winner. It is about the firm AES communication Shpk owned by the citizen Jani Angjeli. The firm in question has offered the value of 7,840,060 new lek without VAT or about 100 million old lek with VAT. It is clear that this value is almost the same as the limit fund, which makes this tender questionable, as the winning value is 98.9% of the limit fund.