Again dubious tenders continue to be one of the important events that happen every day in this country. The only special thing about them is that they happen without fuss, just in silence without making the slightest noise. But the problem is that through them, Albanian citizens are wasted a large amount of money they have paid as taxes to this state. As it is already known, municipalities are the ones that catch among the biggest "pockets" of public money.
In this case it is about the Municipality of Berat led by Ervin Demo. It turns out that an institution under this municipality, namely the Public Services Enterprise Berat, has organized a highly dubious tender by those who smell. It is about the tender with reference number REF-03102-08-17-2021 and with object "Purchase of asphalt and other materials". Its limit fund is 19,999,982 new lek without VAT or about 240 million old lek with VAT.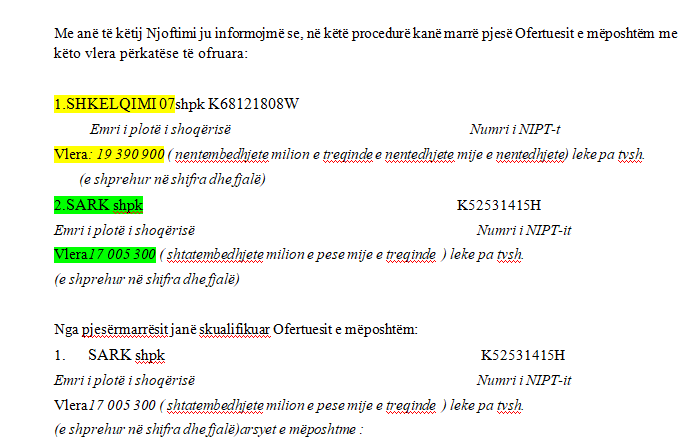 We say so, because looking at the tender documentation it is noticed that only two companies participated in it, SHKELQIMI 07 with an offer of 19 390 900 new ALL without VAT and SARK with an offer of 17 005 300 new ALL without VAT. Surprisingly, the winner was the company SHKELQIMI 07 owned by Shkëlqim Kapllanaj, although it offered almost 30 million ALL more than the other participating company. Not only that, but it turns out that the winning value offered by SHELK 07, is as much as 96.95% of the limit fund. Both of these facts raise strong doubts that we are dealing with a predetermined winner.