Tenders organized by the municipalities of the country generally generate a lot of income for the pockets of the organizers and the winners. This is due to the fact that usually in the tenders organized by them, big money is played at levels starting from several hundred million and going up to tens of billions of ALL. Cities cleaning tenders, which are generally organized in high numbers, have a large turnover of funds.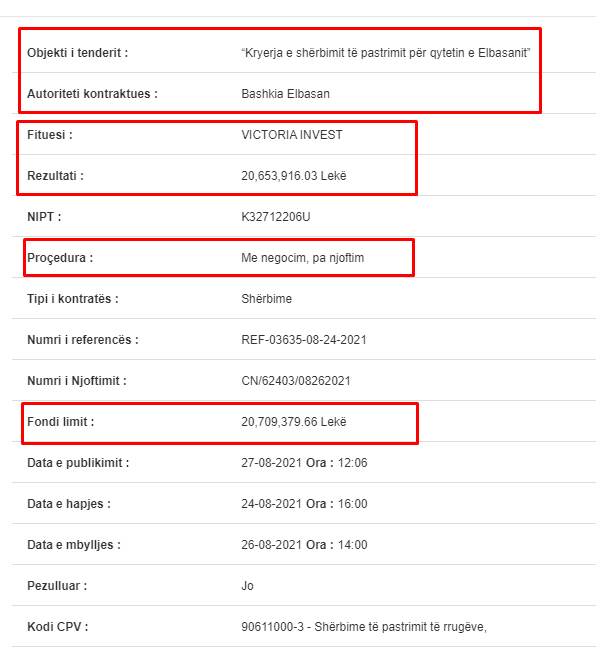 The Municipality of Elbasan, led by Gledian Llatja, is the next institution that has organized a dubious tender. The procurement procedure bears the reference number REF-03635-08-24-2021 and has as object "Performing the cleaning service for the city of Elbasan". To clean the city, this municipality has calculated as a limit fund an amount of 20,709,379 new lek without VAT, or about 250 million old lek with VAT.
But if we study the relevant documentation of this tender, it is noticed that a negotiated procedure has been implemented, without notice. Consequently there was no competition at all and only one company participated. It is about the company VICTORIA INVEST owned by Fatmir Kuçi, which has been declared the winner with the value of 20,709,379 new lek without VAT, or about 250 million old lek with VAT. This figure is as much as 99.73% of the limit fund.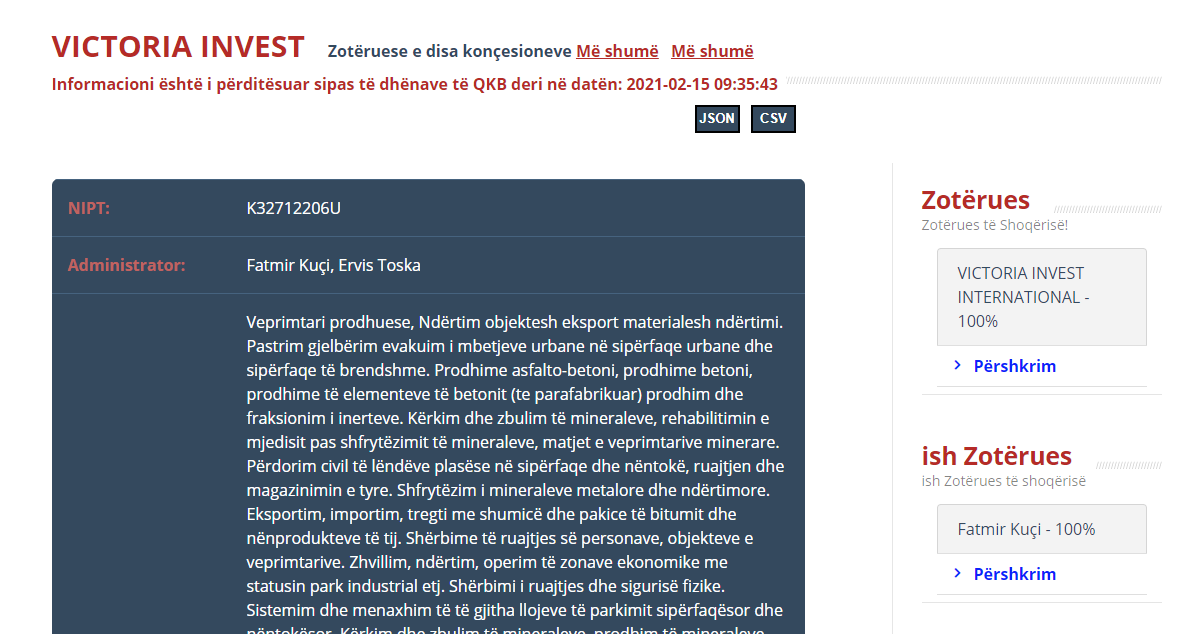 It has been rumored in the media that this company has very strong ties with Lulzim Basha, the current chairman of the opposition. It is sufficient to mention that his company bears the name of Basha's daughter. Kuçi Company turns out to have won over 52% of the tenders of the Municipality of Elbasan over the years. But the connection with Basha does not seem to have prevented him at all from winning tenders from the Socialists, where it is enough to mention that in the last 5 years alone he has won over ALL 20 billion in payments from the State Treasury. It is worth mentioning that in 2014, Fatmir Kuçi was prosecuted at large for "violation of navigation rules". This after causing the death of Denis Kaiumov, a Russian tourist in Livadh in 2016, after he hit him with a speedboat cutting off his limbs with the propeller of the craft. For this he was handcuffed but managed to get out after a while. Meanwhile, it seems that the connection with Lulzim Basha did not prevent him at all from receiving billions from the socialists. How do you explain it?